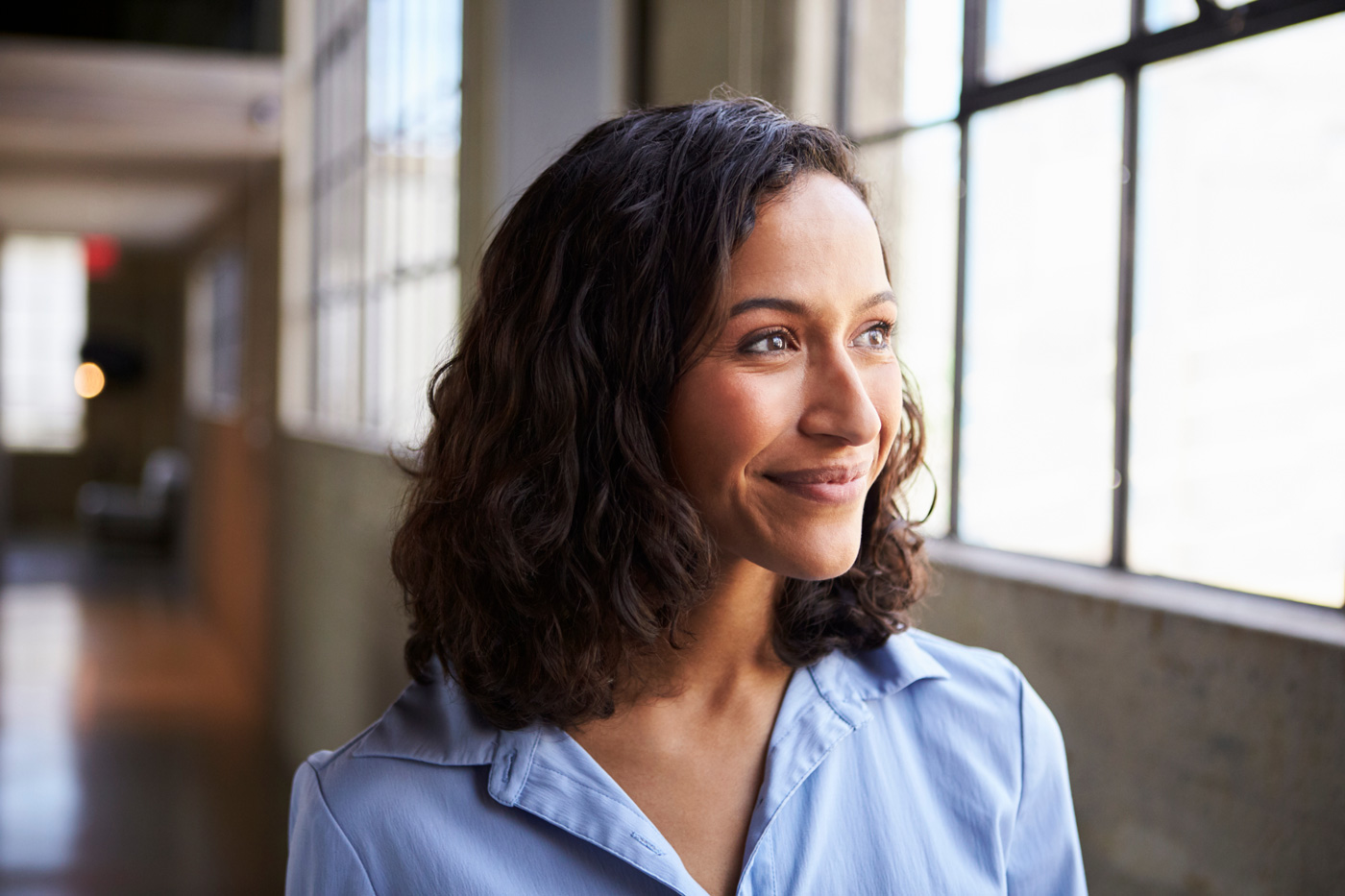 It's no secret that the women of Oregon are some of the most intelligent, resilient, adventurous, and downright impressive individuals in America.
Who are the women driving change and compassion in our city and state? What does the future look like for the women of Oregon? With a series of compelling profiles, essays, interviews, infographics, and historical timelines, we address these questions and more.

We will showcase female leaders of various industries in a powerful black and white portrait-style advertorial called "Women Who Move The City." Whether you are a pioneer in your field or on the brink of greatness, what is it that you want to be known for? Business or industry leaders in real estate, medicine, finance, non-profit, law, or something else? Portland Monthly, the city's #1 lifestyle magazine, will help you discover your brand statement and announce it to the Portland Monthly audience through the pages of the magazine and on pdxmonthly.com.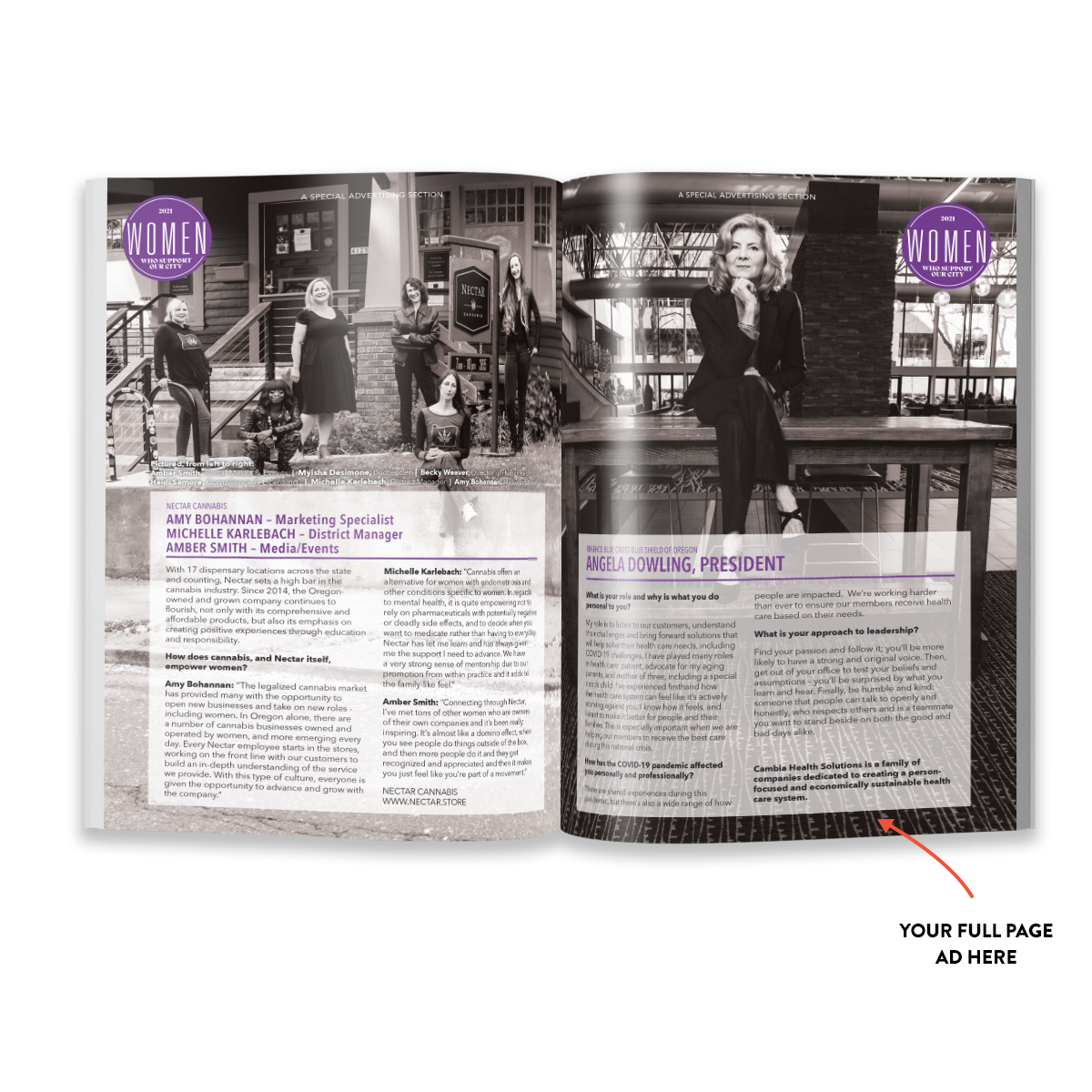 Annual Enhanced Listing on WOMEN WHO MOVE THE CITY Site
20K NATIVE IMPRESSIONS

(LINKS TO YOUR ARTICLE ON MICROSITE)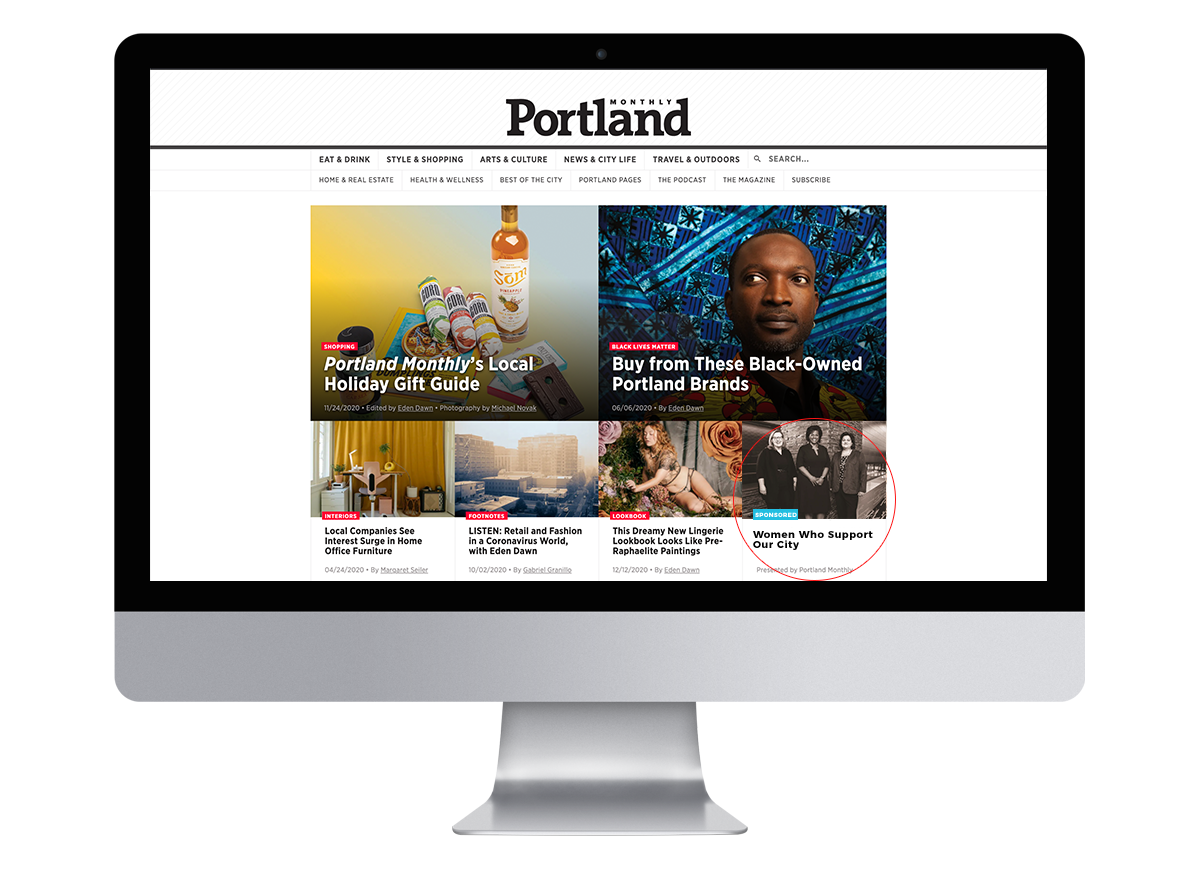 Rich Media slideshow of WOMEN WHO move the CITY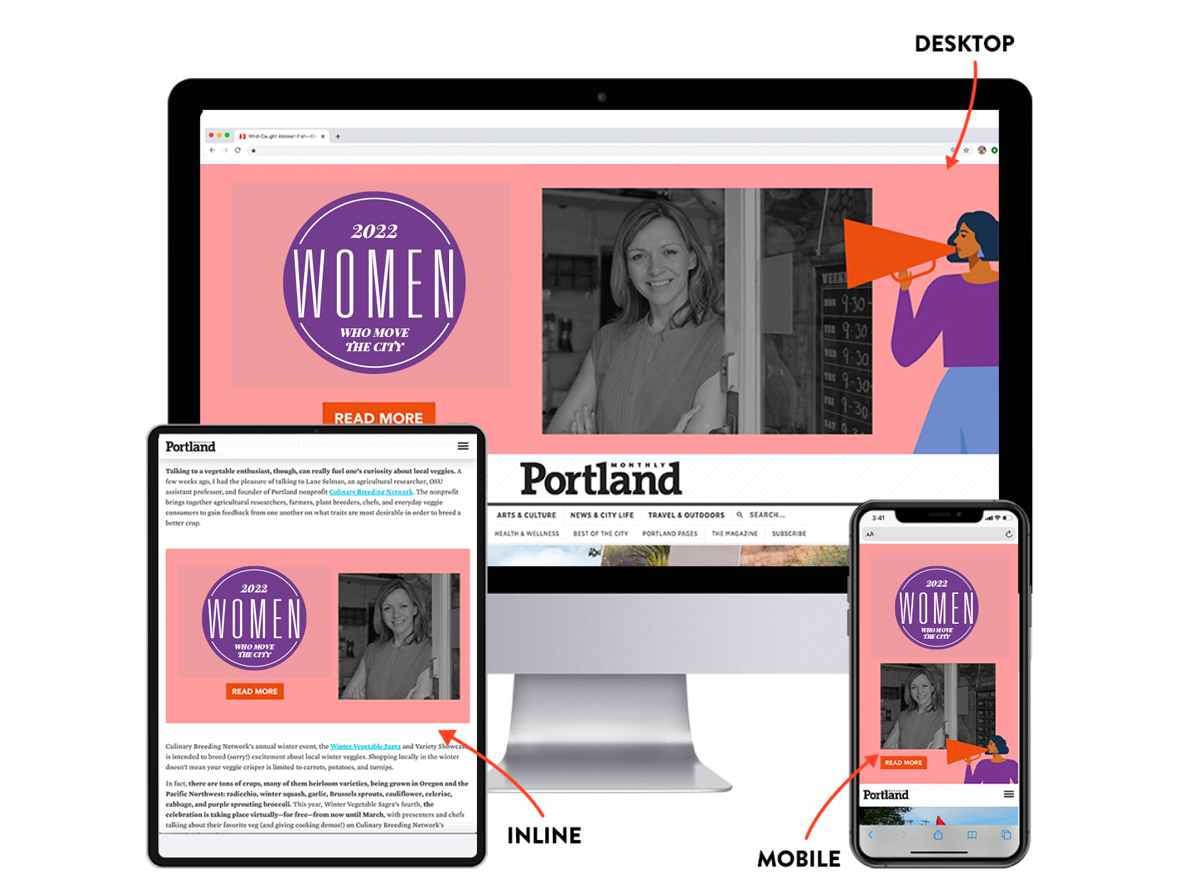 Facebook & Instagram Post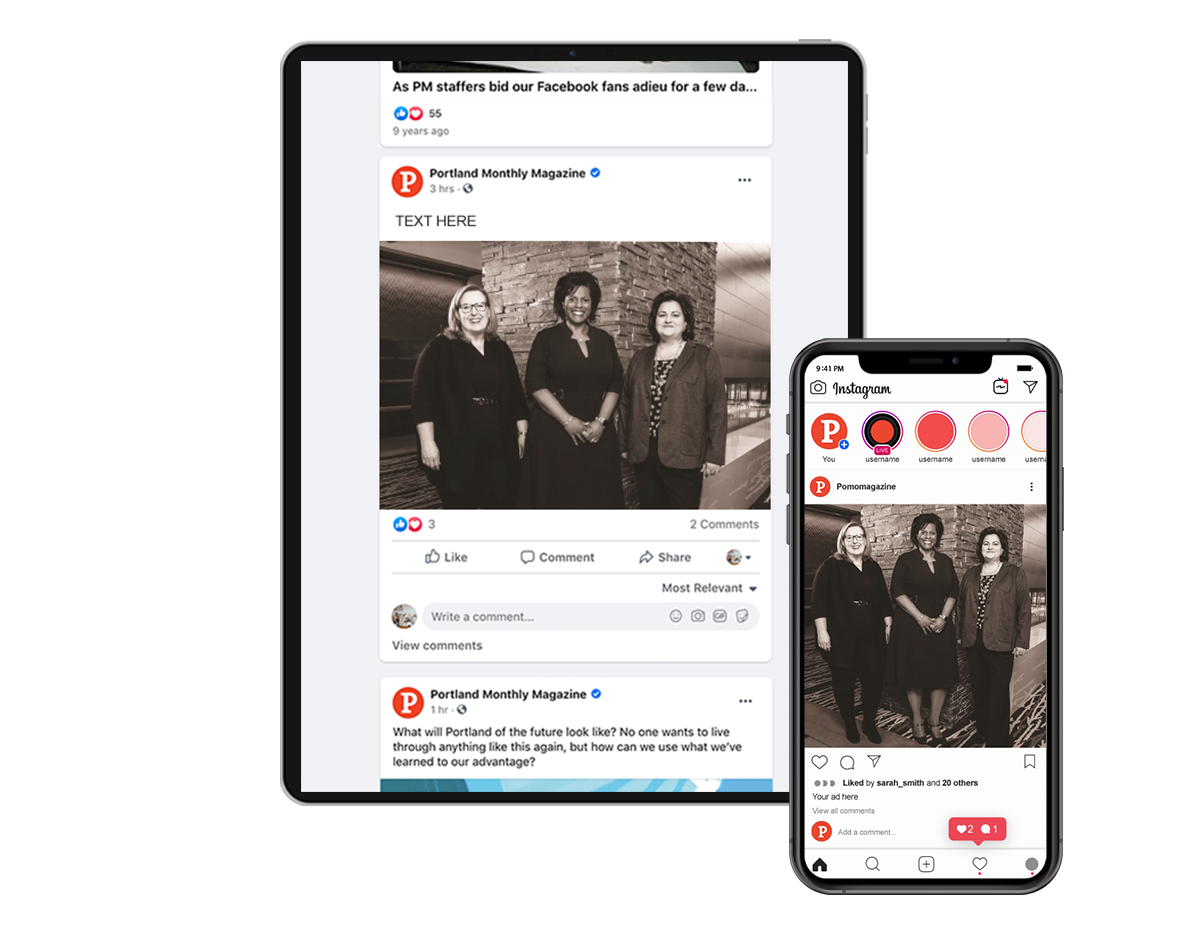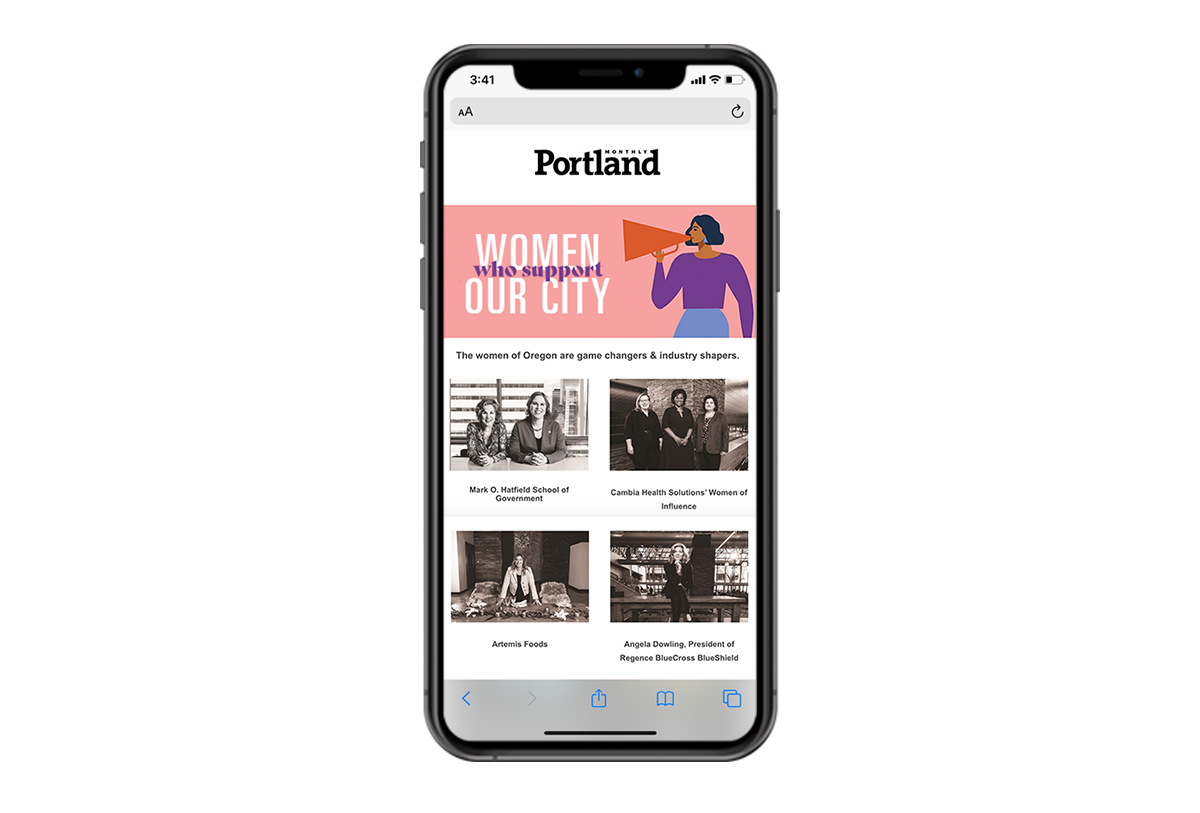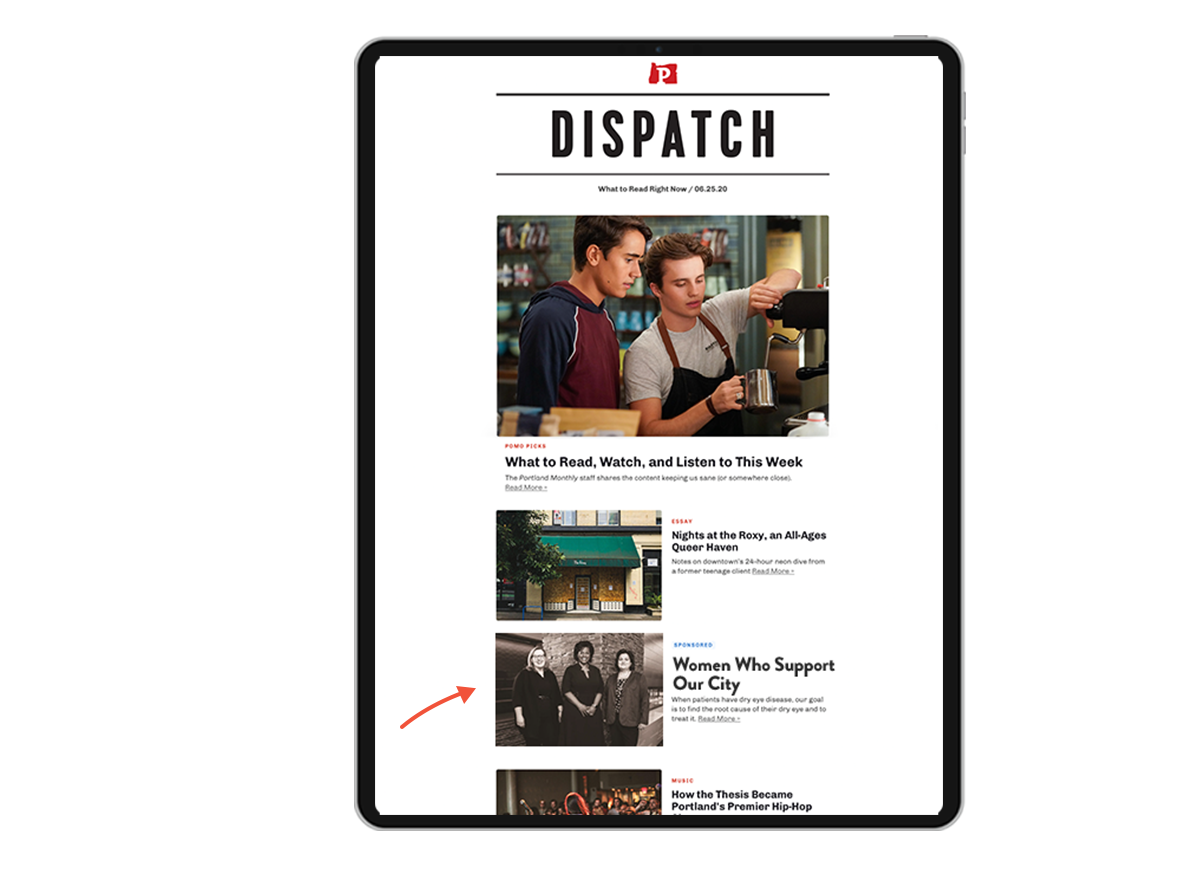 WOMEN WHO move the CITY package Details
Digital + Print SPREAD PACKAGE - $10,500
Digital + Print FULL PAGE PACKAGE - $6,500
Digital + Print HALF PAGE PACKAGE - $3,950
Digital Only - $2,200


Includes:
Print Ad in Fall Issue of Portland Monthly (print packages only)
One hour session with Professional Photographer (spread & full pages only)

Annual Listing on Women Who Move The City Site

20k Native Impressions on pdxmonthly.com (links to your article on microsite)

Rich Media Slideshow on pdxmonthly.com

1x Facebook & Instagram promotion of you as Portland Monthly Women Who Move The City
1x Native Newsletter on Portland Monthly's Dispatch (links to your article on microsite)
Targeted E-blast Promotion of Portland Monthly Women Who Move The City
---
Optional Add-ons:
Exclusive 1-week Paid Social ad campaign on Facebook and Instagram featuring your message and profile - $750
Added brand lift - Roadblock ads on your profile page for 1 year - $350
Awareness - Add additional native ad positions in the e-newsletter of your choice - $400/day
Awareness – Add an eBlast w/ 50,000 sends to the target audience of your choice - $1750
---
Up to 300 words
Address/Phone/Website
Business Name
Your Name (option to add title)
Hi-Res image (CMYK, 300 dpi), if you don't use our photographer & for half pages.
Close: 7/14/23 | Materials: 7/21/23 | On Sale: 9/6/23
Contact Your Rep Now!
Chris Healy
Terri Kiesenhofer
---
LES UTLEY
Don't have a Rep contact one today!